Gone are the days when playing video games required a high-end PC or a Console setup. With the mobile gaming industry booming, 1/3rd of the world's population are now gamers. In the mobile gaming space, there have been three popular genres of games so far:
Hardcore mobile games
Mid-core mobile games
Casual mobile games
Currently, another genre is dominating the gaming app charts – hyper casual games. This genre has seen an unprecedented growth in the last few years and has taken the gaming industry by storm. Last year, as per Sensor Tower, hyper casual games accounted for 31%, i.e., 1/3rd of the total global 6.3B downloads. Due to worldwide lockdowns, the numbers saw a 72% growth from the previous year.
Hyper casual games offer the ultimate quick gaming fix experience. In this blog, we shine the spotlight on everything that makes hyper casual games the future of mobile gaming!
Read also: How mobile gaming is redefining Esports
What are hyper casual games?
The mobile gaming industry has gone through some remarkable stages of evolution. It not only created a space for casual gamers but also opened up a whole new world of gaming for non-gamers. Hyper casual games are simple, lightweight, and have a minimal design. The gameplay offered is easy and addictive. Statista had some interesting data about retention rates on day 1 and day 30 for global mobile app installs in 2020. The average retention rate for hyper casual games on day 1 was 32.3%, and by day 7, it was 8.3%. For hardcore games, the retention rate on day 1 was 28.7%, and by day 7, it was 8.7%.
Bushnell's Law, or often known as Nolan's Law for video game design, states,
"All the best games are easy to learn and difficult to master."
This is precisely the philosophy that is followed in hyper casual games. Due to their direct and simplistic nature, they are becoming massively popular among mobile gamers. By 2018 itself, hyper casual games topped the download charts of app stores.
Why do people love Hyper Casual games?
In August 2020, Facebook rolled out its hyper casual gaming report that included the 6 major reasons why people love to play hyper casual games:
To dive into another character or world
To pass time
To chase the feeling of accomplishment that comes after finishing a challenge
To reduce stress
They are unique and impressive
They offer a sense of connection to gamers with something they're passionate about in their real life
This is exactly the kind of motivation that drives game developers to create hyper casual games. They know what their selling points are, which makes the core of a successful game.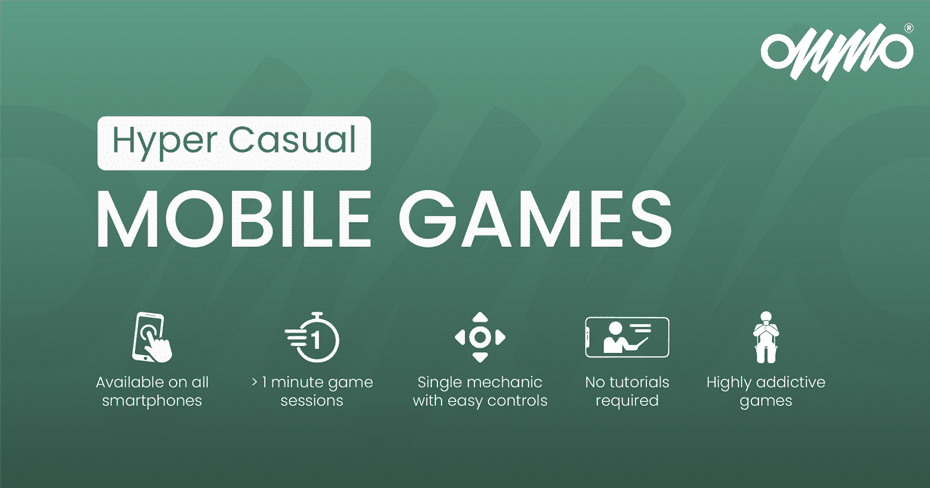 Let's take a look at how hyper casual games are redefining the mobile gaming industry:
1. Simple yet effective gameplay
Hyper casual games are so simple to understand and easy to play that they do not require any tutorials. All you have to do is download or stream them and just start playing! They are instant games that are perfect for playing when there is some spare time to kill.
2. Minimalistic user interface
The UI of hyper casual games is generally minimal – you don't get to see a lot of elements, numbers, or menus. A lot of such games have just one main button, commonly referred to as 'controller.' Simply put, hyper casual game mechanics are easy and straightforward.
3. Infinite replays without getting bored
The very nature of hyper casual games is that they can be played infinitely without getting bored. Generally, playing the same game over and over again can get repetitive, but not in the case of these games – they come along with exceptional attributes that make them fun and re-engaging. This is why most hyper casual games have various difficulty levels.
4. Convenience and minimal efforts
As hyper casual games do not require any specific skill set, learning period, or even complete concentration of the gamers, they call for minimal efforts. They make for great entertainment while doing daily activities like commuting, attending boring work calls, taking coffee breaks, or even watching TV!
5. Quick and easy to develop games
Developers can create hyper casual games in a matter of weeks or even days. They are easy to design and publish as they do not require any background stories, bonus activities, or extra modes. Once tested and confirmed that the particular game has good potential, it gets published and then advertised. Once launched, the publishers keep track of everything that works and everything that doesn't so that the developers can further optimize them.
6. A wide range of target audience
Because of their simplistic nature, the target audience is not limited to any particular age, gender, location, or culture. Hyper casual games attract audiences of ALL types. Hence, the target demographic is quite wide – they provide a universally fun gaming experience that literally anyone can enjoy.
7. Monetization through in-app ads
As there aren't many in-app purchases for hyper casual games, most of their monetization is done through a mix of playable, interstitial, and video ads. The content of these ads is in alignment with the games, which leads to more user acceptance. This, in turn, gives a positive user experience and thereby better conversion rates.
Final thoughts – hyper casual games are here to stay and dominate the Mobile Gaming industry!
The hyper casual gaming industry will keep growing simply because of the fact that they are easy to produce, easy to play, and with the proper marketing funnel, they can generate millions. The simplified gameplay offered here paired with a hands-off revenue generation model will ensure that their popularity is only going to keep increasing. With millions of options to play from, hyper casual games surely have found a devoted, loyal fan base globally, taking the entire mobile gaming industry to a whole new level.
Play some of the best hyper casual games for mobile without any downloads here.