Progressive Web Apps or PWAs combine the best features of native mobile apps and mobile web to deliver an enhanced user experience (UX). They are known to increase the content value dramatically for minimal cost. Their popularity in the tech community has been growing stronger with the ever-increasing global smartphone user base. Slowly but surely, smartphone users have begun to migrate from mobile-first to now mobile-only. The power of PWAs has made it possible to hail the best of both worlds.
The same principle of offering an enhanced UX to the user has been applied in the gaming industry. With the rise in PWA development technology, the mobile gaming industry is headed towards an 'app-less app' revolution. The assertion behind this comes from the need to deliver mobile games with excellent quality, which could be an alternative for Native – or installed apps. As of today, owing to PWAs, we now have mobile games that not only offer an alternate option to apps but actually function like the apps as well.
Read also: PC vs. Mobile Gaming – which is the best?
What are PWAs?
Simply put, a PWA is a collection of tools and technologies that work together to deliver an overall concept. It is essentially an app developed on frameworks like JavaScript or React.Js that can be installed on a user's phone just like other apps. PWAs let developers serve audiences without the requirement of App Store/Play Store. This means that the game's mobile version becomes the app without any inherent third-party approval issues or a need to enter passwords.
Mobile browsers have a function called 'Add to Home Screen', enabling the link to get saved and actually become a complete offline version of that content. For mobile games, the user experience is particularly elevated because it removes the need for multiple app downloads – something better than the Native app experience. The best part about PWAs is that they provide this full app experience without taking up any space – it's all online.
Additionally, here are the other options provided by PWAs which are similar to Native apps:
Splash screens
Push notifications
App-like interface
Safety
Self-updates
Offline mode
Fun fact: No manufacturers can block PWAs from being accessed/installed on mobile phones. And now with Cloud Gaming technology, the future of mobile gaming is also changing as it completely eliminates the need for downloading any apps for gaming.
How are PWAs enhancing the mobile gaming experience
Games on PWAs are built with the aim of entertaining gamers and increasing their engagement. Here are a few of the many ways they can enhance a user's mobile gaming experience:
1. App-less apps with Add to Home Screen function
Gone are the days when only Native apps could create shortcuts on mobile home screens. With PWAs, things are changing for the better. Users can now skip the hassle of downloading and authenticating apps. Compared to Native app placements, PWAs act as refined versions of apps – they get bookmarked with the other apps without taking up any space.
2. Progressive loading for instant games
Downloading even the simplest mobile game apps can take up easily around 10 to 15 MB of storage space. Additionally, there's always a risk of the gameplay getting affected in case of a poor connection. PWAs, on the other hand, offer progressive loading, or commonly known as 'lazy loading,' which provides gamers with super-fast loading. A gamer would see the game's main menu much faster compared to Native apps since here, all CSS and JS files are loaded already.
3. Wide range of retention and reach
PWAs offer ownership to mobile gamers – they can enjoy the games and get back to them later in a more relaxed manner. Games built on PWA tend to reach a wide range of audiences while enabling them to relive that experience for repeats anywhere, any time. This basically means that mobile gamers not only see the game icon on their mobile home screen, but they never actually experience situations where they cannot play it.
4. PWAs are cost-effective, compact, and connectivity-independent
They offer the same benefits as Native apps by using just a single code base with minimal effort and cost. Since they are built of web technology, they are tailored to have a smaller and quickly downloadable footprint. So if you are an online mobile gamer, you might as well just keep them because they are downloaded already! And, they are connectivity-independent – all the files can be stored and downloaded for offline play, much like the Native apps.
5. They are responsive, discoverable, shareable, and engaging
Unlike App Stores, where only popular games are listed as suggestions, PWAs are easier to find because they are there in the browser itself and can be quickly searched. These games are also easier to share via their URLs. With features like push notifications, re-engagement is far better for PWAs. Moreover, they are more responsive than traditional gaming apps because they fit all form factors – mobiles, tablets, desktops, and anything else that's upcoming!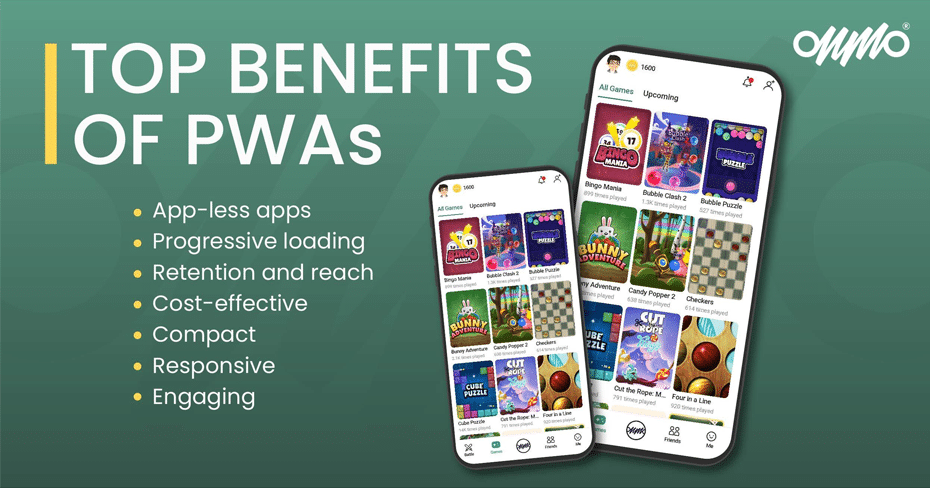 The bottom line – for casual mobile games, there's a continual shift to PWAs
All the inherent shortcomings of mobile gaming Native apps are addressed by PWAs. For casual and hyper casual games, there has been a rising popularity in PWAs, leaving high-end games focusing on App Stores. Now with more and more game developers choosing PWAs, the mobile gaming landscape definitely looks promising. Going forward, it's safe to say that PWAs will offer a more immersive gaming experience. This will be a boon for casual gamers who love to play mobile games but don't wish to invest in expensive gaming setups as PWAs provide a seamless gaming experience without hogging up much room.
Finally, here's putting money where our mouth is – play your favourite mobile games without any downloads here.